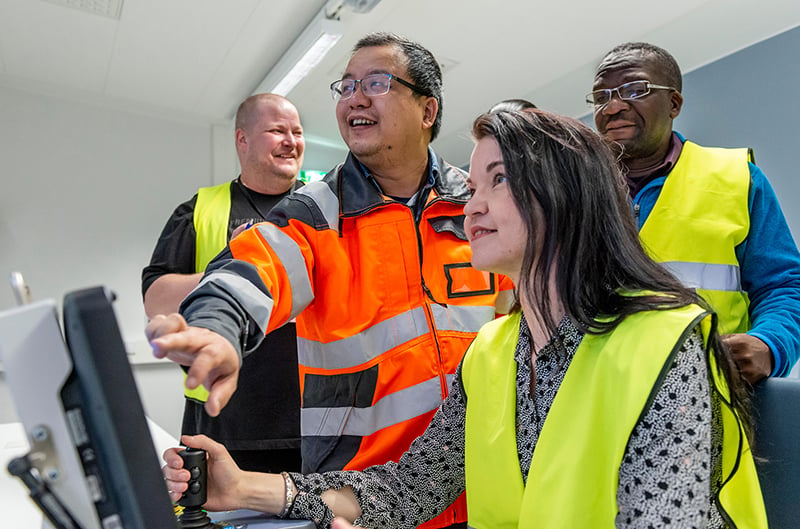 South Africa's largest diamond mine, Venetia has been mined as an open pit since 1992. De Beers Group is investing ~$2 billion to start mining underground from 2022, extending the mine's life beyond 2045. The VUP represents the biggest single investment in South Africa's diamond industry in decades.
Allan Rodel, Project Director of the VUP, says that the use of technology is critical in building the mine of the future and will ensure the safety of its people, as well as create unique employment opportunities. He adds that the successful implementation of technology holds the key to further improve the mine's productivity and cost-effectiveness, enabling the quality and accuracy required for precision mining. This will also provide real-time geospatially referenced data that supports the digitalization of processes and provide a wealth of data for analysis and continuous improvement.
The underground mine will use sublevel caving to extract material, from its K01 and K02 ore bodies. Initially, the ore will be hauled to the surface using a combination of underground and surface haul trucks. As the operation matures the hauling systems will transition to an automated truck loop in combination with vertical shafts for steady-state production.
Prioritizing safety and productivity, the VUP will leverage the technology achievements of Sandvik Mining and Rock Solutions, which has ordered 19 units of high-tech equipment from the company.
According to Simon Andrews, Managing Director at Sandvik Mining and Rock Solutions Southern Africa, the company will supply a range of intelligent equipment including load-haul dumpers (LHDs), articulated dump trucks (ADTs), twin-boom drill rigs, roof bolters, and cable bolters. Amongst the advanced models are 17 tonne LH517i and 21-tonne LH621i LHDs, 51-tonne TH551i ADTs, DD422i face drills, DS412i roof bolters, and DS422i cable bolters.
"As important as the equipment itself is, De Beers Group was looking to partner with a company who would support them through the VUP journey," says Andrews. "Taking a mine from surface to underground has many challenges, including the change in operational philosophy."
Andrews highlights that change management processes are as crucial to success as the capacity and performance of the mining equipment. The implementation of the new technology is seldom a straightforward process, and always requires a collaborative effort.
"The expectation of the customer is for a strong relationship with a technology partner who will help them to apply, develop and fine-tune the systems they need, over a period of time," he says. "This way, the technology is assured to deliver the safety, efficiency and other positive results that the new mine will demand."
Andrews believes that Sandvik Mining and Rock Solutions leads the pack from a technology point of view, having introduced its intelligent i-Series machines to enhance remote operation capability. This advanced range combines automation with powerful data management capacity, aligning with the philosophy that De Beers Group has applied to this world-class operation prioritizing the safety of its people.
Also included in the package for VUP is the Sandvik OptiMine control system which enables continuous process management and optimization, focusing on key areas such as face utilization and visualization of the operation in near real-time. Utilizing data generated by the i-Series machines, OptiMine helps mining operations to achieve the lowest operating costs and highest levels of productivity.
Andrews notes that Sandvik Mining and Rock Solutions is not new to the Venetia site, having worked with Venetia's surface operations for some years, providing tools for drilling as part of a performance contract.
"We've been following the VUP with great interest and were ideally placed to contribute as we have extensive South African experience with mining customers in transitioning from opencast to underground," he says. "This has involved providing equipment, implementing the systems and getting a full operation running with the latest equipment."
Andrews emphasizes the extensive global footprint of Sandvik Mining and Rock Solutions, and its significant investment in ongoing research and development. This allows it to help customers push technological boundaries for efficiency in their operations.
"Sandvik Mining and Rock Solutions has successfully completed numerous large and ambitious projects, and it reflects our experience in applying automation technologies from first principles," he says. "
The learnings from these projects will be seen in the VUP as the mining systems are rolled out. We will take the very latest technology and assist the mine to implement it in an underground environment through a collaborative approach using local skills and supporting it from a local base of expertise."
He emphasizes that the automation will be applied through a phased approach, beginning with manual operation and closely monitoring performance through data analytics. Automation can be gradually introduced with the necessary training and experience, ensuring consistency of operation which is the key to success.
"This will allow costs to be driven steadily lower, using the data from the operation of the fleet to guide the transition to automation," he says. "We will work with the mine to introduce automation and further data management as work progresses deeper into the mine, and as mine employees become more comfortable with this way of working."
Sandvik Mining and Rock Solutions is geared to support the trackless systems implemented at the mine through the full lifecycle of the machines by supplying spare parts, tooling, and components from an on-site Vendor Managed Inventory stockroom and its other South African based facilities.
Source: Sandvik